Chicken & Rice Salad with Red Pepper Vinaigrette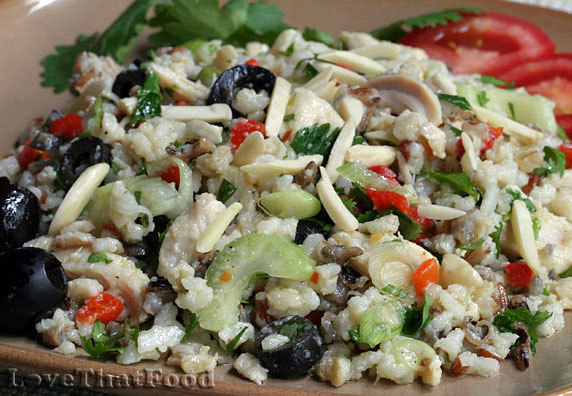 Tips:
Turkey may be used instead of chicken, if desired.
Suggestion:
May be be served as a main course or as a salad side dish.
Chicken & Rice Salad with Red Pepper Vinaigrette (also sometimes referred to as Wild Rice Salad, even though the rice is more commonly a blend of different types of rice and not 100% wild rice) is a light, tangy and refreshing salad made with a delicious
Red Pepper Vinaigrette dressing, featuring chunks of chicken breast, a mixed rice blend, sliced celery, sliced ripe olives, sliced green onions and diced pimientos. This salad is delicious served on its own or over large lettuce leaves, garnished with whole ripe olives and tomato slices or wedges and topped with slivered almonds or pine nuts (shown above with slivered almonds).
The above photo shows this Chicken & Rice Salad made with a rice blend of texmati white, brown, wild and red rice, but you can certainly use any blend of rice that appeals to you. This salad is perfect served as a side or main course for lunch and/or brunch, or served for a light and cool dinner. The Red Pepper Vinaigrette salad dressing has a unique and zesty flavor, and is the perfect enhancement to this colorful chicken salad recipe.
Ingredients
Salad

1 1/2 cups mixed rice blend (see recipe description)
3 cups water
1/2 teaspoon salt
2 cups cubed cooked chicken (may also use cubed turkey)
1 cup diagonally sliced celery
1/2 cup chopped fresh parsley
1/2 cup sliced pitted black olives
1/2 cup diagonally sliced green onion, including tops
2 tablespoons fresh chopped tarragon (or 2 teaspoons dried tarragon)
1/4 cup chopped red pimiento



Red Pepper Vinaigrette

2 tablespoons Dijon mustard
3 tablespoons white-wine vinegar
1 teaspoon salt
1/2 teaspoon freshly ground black pepper
1/4 teaspoon crushed red pepper flakes
3/4 cup olive oil



Garnish & Presentation (optional)

lettuce leaves
tomato wedges
1/4 cup whole black olives
1/2 cup toasted slivered almonds or pine nuts
Directions
Salad
Place mixed rice blend in a strainer and rinse under hot tap water. Place rice, water and salt into a medium saucepan. Heat to boiling, then cover and simmer for about 40-50 minutes, or until rice is tender and water has been fully absorbed. Pour 1/2 of Red Pepper Vinaigrette (recipe follows) over rice while hot. Stir and set aside to cool.
In a large mixing bowl, combine cooked and cooled rice, chicken, celery, parsley, black olive slices, onion, tarragon and red pimiento. Add remaining vinaigrette and stir lightly to mix. Cover bowl or transfer to an air-tight container and chill in refrigerator until ready to serve.
Red Pepper Vinaigrette
In a small mixing bowl, whisk together mustard, vinegar, salt, black pepper and red pepper flakes. Add oil gradually while constantly whisking.
Garnish & Presentation (optional)
Just before serving, stir salad. Serve salad by itself or over a bed of whole lettuce leaves. If desired, garnish with tomato slices, whole black olives and sprinkle with slivered almonds or pine nuts.
Other recipes you might like: