Mexican Meatloaf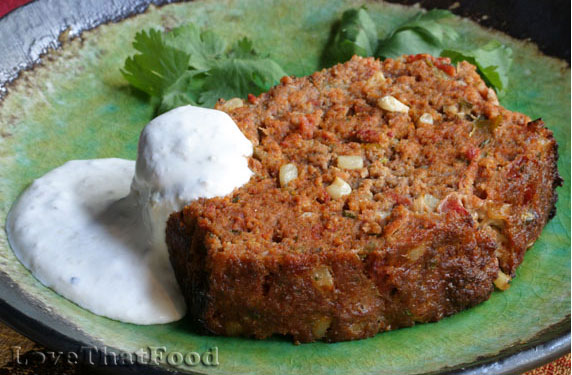 Cook Time:
1 hour, 15 minutes
Tips:
For added color in presentation, place a few sprigs of fresh cilantro on each serving dish.
Mexican Meatloaf is a fabulous variation from the traditional meatloaf that is usually made with
ground beef, bread crumbs and tomato sauce. This festive meatloaf recipe gives you the fabulous flavors of Mexico by combining chorizo, green chiles, corn, cilantro, stewed tomatoes and cornmeal. This mildly spicy meatloaf is also accompanied by a delicious Creamy Salsa made with a simple combination of sour cream and salsa verde, giving this dish the perfect complimentary flavor.
Cooking meatloaf couldn't be easier. It's simply a matter of mixing all the ingredients together in a mixing bowl, transferring the mixture to a bread pan, then popping it in the oven. Meatloaf also is great for leftovers. Either heat up individual servings in the microwave, or make yourself a cold meatloaf sandwich the next day!
Recipe▼

Ingredients
Meatloaf

1 1/2 lbs. lean ground beef
1/2 lb. pork or beef chorizo
1 egg
3/4 cup cornmeal
1 teaspoon salt
1/4 teaspoon pepper
1 4-oz. can diced green chiles
1/4 cup chopped fresh cilantro
1 14-oz. or 1-lb. can stewed tomatoes
1 8-oz. can corn kernels, drained



Creamy Salsa

1 7-oz. can salsa verde (or use 7 oz. of bottled salsa verde)
1 cup sour cream
Directions
Meatloaf
Preheat oven to 350° F.
In a large mixing bowl, combine ground beef, chorizo, egg, cornmeal, salt, pepper, chiles, cilantro, stewed tomatoes and corn. Mix gently and thoroughly. Transfer to a 9 x 5-inch loaf pan and press to create a loaf shape. Bake for 1 hour 15 minutes or until top of loaf has browned and loaf appears done. Let stand about 5-10 minutes before slicing. Serve with Creamy Salsa.
Creamy Salsa
Combine salsa and sour cream and mix until thoroughly blended.
Other recipes you might like: