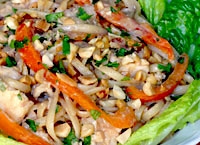 Cook Time:
8-10 minutes (for pasta)
Tips:
If you'd like a more tender texture to your bell pepper slices, simply place in a
vegetable steamer
over boiling water and steam for about 2 minutes, then immediately place in icy water to stop cooking process. Alternatively, this salad can be made without the bell peppers, if desired.
Suggestion:
Also delicious served in slightly different form as a hot
pasta dish
.
Spicy Peanut Dressing
Drain chicken, reserving 1/4 cup of the broth. Set chicken aside. (Note: If using a cooked chicken breast instead of canned cooked chicken, packaged chicken broth or chicken broth made with bouillon and water may be used in place of the broth from the can.)
In a small mixing bowl, whisk together the 1/4 cup of reserved broth, peanut butter, vinegar, soy sauce, sugar, sesame oil, ginger and cayenne until blended. Store in refrigerator while preparing the rest of the salad.
Salad
Cook linguine according to package directions until al dante (just until done - no longer). Drain pasta in a collander and rinse with cold water until completely cooled, then drain again.
Transfer pasta to a medium or large mixing bowl. Add chicken, bell pepper strips and chopped green onions. Pour dressing over all and toss until thoroughly coated.
Line a large serving bowl (or line individual serving bowls) with lettuce leaves. Transfer noodle salad to the bowl (or each serving bowl) and place over lettuce leaves. Garnish with sprinkles of the chopped peanuts and chopped cilantro.