Pie Crust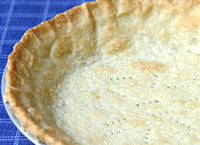 Yield:
1 bottom pie crust (may be doubled for pies that require a top crust - see "Tips")
Cook Time:
About 30 minutes.
Tips:
This pie crust recipe can be doubled to be used with pies that require a top crust, such as Apple Pie (see recipe description below for more details).
Suggestion:
Use with Pumpkin Pie, Apple Pie, Butterscotch Pie or any other pie recipe.
Ingredients
1 1/4 cups all-purpose flour
1/2 teaspoon salt
1 tablespoon white sugar
1/2 cup chilled butter, cut into 1 inch cubes
2 tablespoons ice water
Directions
Place flour, salt and sugar into a food processor. Blend briefly to mix. Add butter and process until mixture resembles coarse crumbs. Through the top opening of the processor, add ice water slowly while processing until combined (about 30 seconds).

Pour pie crust dough into a large bowl and work with hands to form into a ball. Place ball of dough on a lightly floured work surface and roll dough into a 5-inch disk. Wrap with plastic wrap and chill in refrigerator for about 1 hour.


Once dough has chilled, unwrap disk of dough and place on a lightly floured work surface. Roll dough (it will soften as you keep working with it) into a 12 to 13-inch circle (depending on the width and depth of your pie pan). (Tip: Always roll from the center outward, frequently rotating dough to create a well-rounded circle. Sprinkle small amounts of flour on work surface and rolling pin as needed to prevent sticking.)

Carefully transfer rolled-out dough onto the center of a 15-inch-square sheet of parchment paper. (Note: Reserve parchment paper for later.) Place a pie pan (preferably a light-weight pan - glass pans can be used, but are a little more difficult to maneuver) upside-down over the center of the dough circle. Slide parchment paper toward edge of counter top and reach one hand underneath parchment paper to support dough and pie pan. Place other hand on top of pie pan, and while holding all together, carefully turn over and place back on counter top. Remove parchment paper and gently fit pie crust dough into pie pan. Manipulate edges of dough to evenly border pie pan. Shape edges of pie dough all the way around, using fingers to create a design as shown below (Note: You can shape edge of pie crust dough into any design you want, including pressing edges with the tines of a fork, or simply making edges free-form, with no design at all.) Cover pie crust dough with plastic wrap and chill again in refrigerator for about 30 minutes. (Note: If you will be fitting a top pie crust over bottom pie crust, simply fold top crust edges over bottom crust edges, then gently pinch both crust edges together all the way around. Form design around edges if desired.)

Preheat oven to 425° F.

Using a fork, poke a few holes in the bottom of the pie crust dough to allow air to escape during baking and to prevent bubbles from forming on dough. Place reserved parchment paper inside pie crust dough, then carefully add enough beans or rice into parchment paper, filling to about 2/3 full. Trim parchment paper to about 2 inches above pie edges. Bake for 10 minutes. Remove from oven and lift parchment paper and beans from pie crust. Reduce oven temperature to 350° F. Return pie crust to oven and bake for another 15-20 minutes, or until pie crust is light golden brown all over. Allow to cool before filling.