Crusty French Bread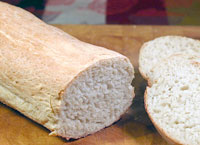 Yield:
1 or 2 long loaves using conventional (or convection) oven method, or 1 loaf using bread machine method.
Cook Time:
Conventional (or convection) oven: 30-45 minutes. Bread machine: See bread machine instructions.
Tips:
Add additional flour one tablespoon at a time until dough does not stick to sides of bowl or fingers.
Suggestion:
Delicious served with butter fresh out of the oven or toasted with garlic butter (see Garlic Bread).
Ingredients
1 cup plus 1 Tablespoon warm water
1 teaspoon salt
1 teaspoon sugar
1 teaspoon olive oil
2 cups bread flour, plus more as needed
1 package yeast
Directions
Bread Machine Method
Place all ingredients in the order listed and select white bread setting then start setting (or other similar settings, depending on your bread machine options).
Conventional Oven Method
In electric mixer bowl, whisk warm water and yeast until yeast is dissolved, then add oil. In a separate medium mixing bowl, sift togetherflour, salt and sugar. Attach dough hook tool to electric mixer and turn to slow speed. Gradually add flour mixture to yeast and water mixture, and continue mixing until well blended, scraping sides and bottom as necessary. If dough sticks to
sides of bowl and/or your fingers when trying to handle, add additional flour to dough (1 tablespoon at a time, mixing in each time), just until dough stops sticking to sides of bowl and fingers.

Oil a large glass bowl, then transfer dough to bowl. Cover with plastic wrap and allow to sit until doubled in size (about 45 minutes). Transfer dough to a lightly floured work surface and knead (folding dough into itself about 6 times), sprinkling with additional flour as necessary to prevent dough from sticking to hands and work surface. Form into 1 or 2 long loaf shapes, about 2 1/2 to 3 inches in width. Oil wax or parchment paper and place on French bread pan(s). Carefully transfer shaped dough loaves to bread pans and cover with a light weight towel to prevent from drying out. Allow to rise until loaves fully fill the bread pans and have doubled in size (about 45 minutes).

15 minutes before you are ready to bake, preheat oven to 350° F. After loaves have risen to desired size, very gently pull on the wax or parchment paper to remove it from bread (bread will roll while staying in place). Note: Removing parchment paper too quickly might cause bread to reduce in size. Bake for 30-45 minutes or until crust is golden and bread appears done. Transfer to a wire cooling rack and allow to partially or thoroughly cool before cutting.