Bran Muffins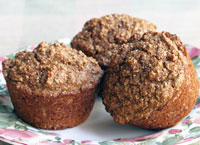 Tips:
If desired, add 1/2 to 1 cup of raisins, dates or nuts to mixture before baking.
Suggestion:
Serve warm or at room temperature with butter and/or honey if desired.
Ingredients
2 cups whole wheat flour
1 1/2 cups pure bran
2 teaspoons sugar
1/4 teaspoon salt
1 1/4 teaspoon baking soda
2 cups buttermilk
1 egg
1/2 cup molasses
2 teaspoons melted butter
Directions
In a medium mixing bowl, whisk together flour, bran, sugar, salt and baking soda. In a separate medium mixing bowl, combine buttermilk, egg, molasses and butter and stir to combine. Add
wet ingredients to dry ingredients and stir just enough to blend.

Pour mixture into greased (use butter or nonstick spray) muffin cups to 2/3 full. Bake for 20-25 minutes or just until muffins feel fairly firm when gently pressed on the center of tops. Allow to cool for about 5 minutes, then remove muffins from baking sheet and place on a cooling rack. Serve warm or cool with butter and honey if desired. Store in air-tight container.