BBQ Pork Sandwich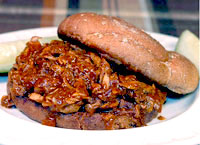 Tips:
Chicken or beef can be used instead of pork, if desired.
Suggestion:
Delicious with Grilled Corn, BBQ Baked Beans, Potato Salad and/or potato chips and garnished with dill pickle slices. Also great topped with coleslaw.
Ingredients
2 cups thinly sliced cooked pork (or beef), fat trimmed off
2 tablespoons instant minced onion
1 tablespoon brown sugar
2 teaspoons paprika
1 teaspoon ground oregano
1 teaspoon chili powder
1/4 teaspoon black pepper
1/2 teaspoon salt
1 bay leaf
1 clove garlic, minced
1 cup ketchup
1/4 cup water
1 tablespoon oil
1/4 cup tarragon vinegar (or apple cider vinegar if you don't have tarragon vinegar)
2 tablespoons Worcestershire sauce
2-3 drops liquid smoke
Directions
In a medium mixing bowl, combine all ingredients except pork. Set aside.

Place sliced pork in slow cooker, then pour sauce mixture over pork. Stir briefly to combine. Cook on low setting for 4-6 hours. When ready to serve, remove bay leaf and serve with hamburger buns, French rolls or toasted bread slices.