BBQ Baked Beans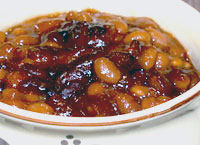 Suggestion:
Delicious served with other sides, such as coleslaw, leafy green salads or potato salad. See Salads for ideas.
Tips:
To prepare using a slow cooker, see slow cooker BBQ baked beans recipe.
Ingredients
2 28-oz. cans baked beans, drained
1/4 teaspoon onion powder
1/2 cup ketchup
3/4 cup tangy barbecue sauce (prepared or homemade)
1/2 cup water
2 tablespoons Worcestershire sauce
2 tablespoons brown sugar
1 tablespoon honey
2 tablespoons molasses
1 tablespoon liquid smoke
1/4 teaspoon dry mustard
Directions
Preheat oven to 325° F.

In a mixing bowl, add all ingredients except beans. Whisk until
well blended, then add beans and gently stir again until blended. Pour beans into a casserole dish and bake in preheated oven for 1 hour.