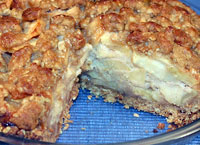 Tips:
Use one type or a variety of apples such as Granny Smith, Galas, Golden Delicious, Jonathans or Pippins.
Suggestion:
Serve with large scoop of vanilla (or other) ice cream and/or whipped cream if desired.
Pie Crust
In an electric mixer bowl, combine flour, oats, brown sugar and salt. Mix briefly to blend. Add butter, water and vanilla and mix again until thoroughly blended. Pour mixture into a 9-inch glass pie baking dish. Press firmly into bottom and sides of pie dish, forming a 1/4-inch rim around the edge (this will help control the amount of pie crust on the bottom). Bake 12-15 minutes or until light golden brown. Set aside and cool while preparing apple filling.
Filling
In a large mixing bowl, combine sour cream, brown sugar, flour, eggs, cinnamon and nutmeg and mix until thoroughly blended. Add apple slices and toss until all apple slices are coated. Pour apple mixture into pie crust, mounding toward center as necessary to avoid spilling the filling over the sides.
Topping
Combine rolled oats, brown sugar and flour in a medium bowl and mix until consistency resembles coarse crumbs. Sprinkle evenly over apple filling.
Bake in oven for 50-60 minutes or until knife inserted in center moves smoothly through apples and comes out clean.
Serve warm or chilled with or without ice cream and whipped cream. Refrigerate left-overs. If you prefer a warmed slice of pie, simply microwave (1 slice at a time) for approximately 1 minute (more or less, depending on your microwave and the size of the pie slice).